Contact us
ADD: No.78 Dongyue Street, Taian City, Shandong,China
TEL: 86-538-6301181
FAX: 86-538-6303608
E-mail: cnalymachine@hotmail.com
> Diesel Test Bench&Tools
12PSB-C3 Diesel Fuel Injection Pump Test Bench, Computer Oil Delivery Display
Diesel Fuel Injection Pump Test Bench, Computer Oil Delivery Display
Product description: Diesel Fuel Injection Pump Test Bench, Computer Oil Delivery Display
Product introduction
12PSB-C3 Diesel Fuel Injection Pump Test Bench, Computer Oil Delivery Display, 12 cylinders, Electronic Fuel Delivery Measuring System, Controlled and measured by Computer in real time.
Power: 7.5kw, 11kw, 15kw, 18.5kw, 22kw etc.
Voltage: 380V/50HZ or 220V/50HZ, 3-phase
12PSB-C3 Electronic Fuel Delivery Measuring System Test Bench---continuous fuel delivery analysis computerized measuring system for conventional and new diesel injection systems. The electronic fuel delivery measuring system is compulsory for modern diesel injection system testing. It guarantees a high level of reproductively of the measured values.
1. Measurement of each cylinder delivery at any speed.
2. Test point and interval angle of oil supply of injection pump.
3. Checking and adjust the mechanical governor.
4. Checking and adjusting the distributor pump.
5. Experiment and adjusting of behavior of supercharging and compensatory device.
6. Measurement of oil return of distributing pump.
7. Testing of the electromagnetic valve of distributor pump. (12V/24V)
8. Measurement of the internal pressure of distributor pump.
9. Checking of the advance angle of advance device.(on request)
10. Checking the sealing of injection pump body
11. Install tube of auto-sucking oil supply can check on oil supply pump(including VE pump.)
12. Checking the travel of stroke (on request)
13.oil lubricate (on request)
14. Foced cooler (on request)
Adjustable cylinders numbers

Out power(Kw)

RPM

Rpm pre-set

Temperature control system

Positive pressure system

Positive pressure system

12

5.5
7.5
11
15
18.5

0-4000

√

√

√

√
Air supply

DC power supply

internal pressure of VE pump

Oil return of VE pump

travel of tooth bar

Advanced angle

Capability with pump type

√

√

√

√

√
(On request)

√
(On request)

All in- line and rotary pump
Test Bench Pictures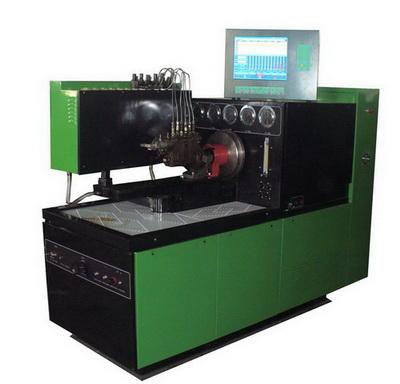 Electronic Fuel Delivery Measuring System, Oil Delivery Display in Computer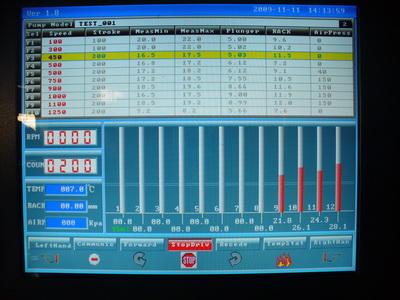 Test Bench Standard Accessories Pictures