Contact us
ADD: No.78 Dongyue Street, Taian City, Shandong,China
TEL: 86-538-6301181
FAX: 86-538-6303608
E-mail: cnalymachine@hotmail.com
> BDB series transmission shaft balancing machine
BDB-200A cardan shaft balancing machine
prop shaft balancing machine
Product description: cardan shaft balancing machine
Product introduction
Transmission Shaft Balancing Machine
Production Parameters
| | |
| --- | --- |
| Technical date at a glance | BDB-200A |
| Maximum Weight of Workpiece (kg) | 200 |
| Maximum Length of Workpiece(mm) | 2400 |
| Balanced Rotation Speed(r/min) | 900-3600stepless speed regulation |
| Minimum Achievable Residual Unbalance Amount(g·mm/kg) | 20 |
| Motor Power (kw) | ≥90 |
| Speed Adjustment Mode | 4 |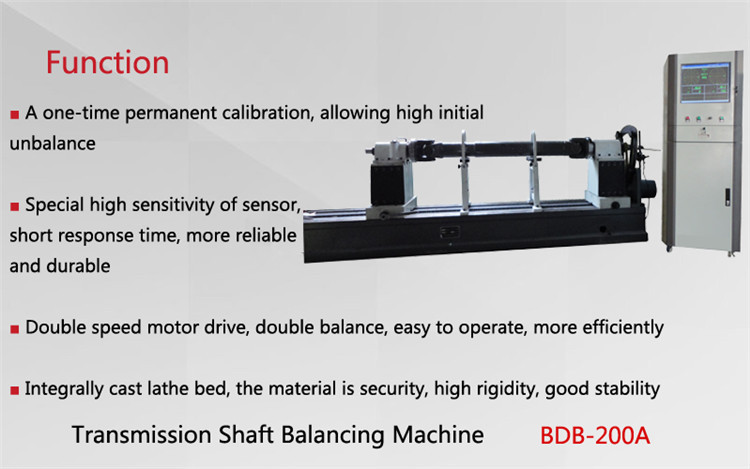 Measurement System
One-time permanent calibration
More human, more powerful; high precision, high initial unbalance are allowed
Real-time display unbalance magnitude and phase angle,real-time display of unbalance value, phase angle,
real-time workpiece speed, real-time measurement of vibration single strength and vector trajectory diagram
five measuring elements;

Data input, storage, printing, achieve One-click work really
Special Designed Brackets
Effectively reduce the vibration damping, transfer mechanical force

The swing frame casted with QT450, the overall high rigidity, the mating surface with grinding process;

Roller material GCr15, after high frequency quenching, the hardness achieved above HRC55, surface grinding
to a radian, realization of contact with the workpiece width line, the final grinding and demagnetization

Roller bearing using NF special custom P5 class C1 group precision small oil gap clearance, to ensure that
the roller wear resistance, greatly improves the precision and service life of the use of the roller.
High Sensitivity Sensor
Response time is short, durable and reliable
Whole Cast Machine Bed
The material is certifiable, higher rigidity, more stable
Machine's guideway surface after rough machining and fining-off by double housing planer, grinding and
lapping processing again,to ensure the machining accuracy of surface flatness and parallelism form
and position tolerances of the guide rail.
Can be customize to lengthen according to customer's requirements.
Applicable Industries
Car, truck, motorcycle, tricycles, agricultural machinery, engineering machinery transmission shaft
After Sale Service
1.The seller is responsible for installation and debugging of machine.
2.Free training technical personnel, the repair personnel and operation personnel of buyer
3.Free maintenance in warranty period.
4.Measuring software free upgrades for five years.
5.Warranty period 2 years,measuring software free upgrades lifetime.